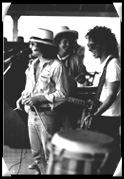 "Musically it was one of the most memorable nights I ever had—from what I remember," said Corvino. "We all crawled out of that bar at about noon knowing we had a real dangerous band," added Wetzel. "I don't remember nothin'," said Drake, "except I think we played the whole second side of Abbey Road without screwin' it up too bad. That and Wetzel sounded like a damn bull runnin' up and down the steps." Relates McAdam, "I had to switch out a keg so my partners wouldn't know how much we drank that night. We kept getting it until about seven or eight that morning, but it sounded fuckin' great. And there was Bruce, runnin' around in just his underwear pulled up to his tit—funny as shit, disgusting, but playing his ass off."

The details differ slightly but all agree that they emerged from the windowless bar in broad daylight, with the complete lineup already firing on six cylinders. The band had risen to a new level. Within weeks they had bought an old school bus and a grand piano (a Rhodes or Wurlitzer certainly wouldn't do) and hit the road. They were young, hungry, and they were tearin' it up.

The rest of 1976 and into 1977 the band continued to improve, impress, and amuse. They could completely change styles of music from one song to the next in very convincing fashion. Rarely using a set list, they pretty much played what they wanted, often playing "Stump the Band" with the audience and usually winning. If they didn't wow you with their considerable musical chops they could probably charm you with their collective wit. They had a penchant for some wild behavior onstage and off, but other than the occasional trip to the courthouse or the clinic, nobody got hurt.
By this time the band had gained notoriety in the Washington, D.C. music scene and were becoming a bit of a fixture at the Georgetown live music venue, Desperado's. In September Morgan, who had grown tired of the road, and Bouton, who had his sights set on Nashville, decided to leave the band. Waiting in the wings was another excellent steel player, Bucky Baxter, who joined the band immediately. Trying something a little different in the lead vocalist position, they hired Nancy Louise Atkinson. Nancy had great pipes and her addition coaxed even more versatility out of the band, but it just wasn't the same G.H.B. The band had lost some of its edge. And a bit of testosterone as well.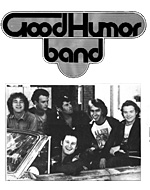 When D.C. guitar great Danny Gatton broke up his band and moved to California, Danny's front man, Evan Johns, immediately signed on with the Humorhoids, replacing the much prettier Nancy Louise. With Evan in the lineup, the edge was back…and more. Fueled by a new batch of songs from Evan and Wetzel, and the knockout guitar combination of McAdam, Johns, and Baxter, the band's live show reached "blistering" status. They had a regional hit with Thirty Miles Outside Of Richmond. They were regularly blowing major label acts off the stage. They were headlining at prestigious venues like The Lonestar in New York City and The Cellar Door in D.C. What could top this onslaught of drums, piano, and guitars?
In 1978 Gatton returned from the West Coast. He had a group of jazz players he could always do gigs with, but he didn't have a rock 'n' roll band to work with. Yet. They started doing dates together as Danny and The Good Humor Band or The Good Humor Band featuring Danny Gatton, depending upon who had the bigger draw in that particular venue. The shows were nuts. To some it may have been guitar overkill at times, but it was always stunning.
If you were doing a solo you had to be sure to get it in before Danny's, because you sure as hell didn't want to follow him," laughs McAdam. "That was rule number one." With Danny in the lineup this was not the guitar army, it was more like the nuclear guitar arsenal. Dangerous. Very Dangerous.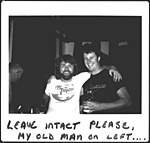 Later that year, like most great steel players, Bucky Baxter split for Nashville. "Smokin'" Joe McGlohon climbed on board to play steel and blow sax. He could wail so well on the sax the guys told him not to bother unpacking the steel. The band didn't lose stride, but gained a step instead. They burnt through the remainder of '78 and '79 with a vengeance.
Gatton formed his own band in '79, and at the end of that year, Evan and Mark Corvino had decided to become "ex-Humorhoids." The band decided to carry on as a five piece and began looking for a replacement for long-time drummer Corvino. "Playing with a new drummer was like wearing women's underwear," said McAdam, who had played in bands with Mark since age 12. "It takes a while before it feels good."